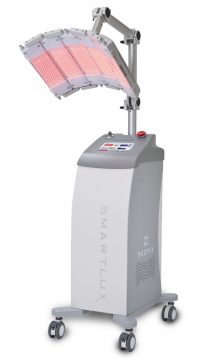 SMARTLUX SLIM is a phototherapy device bearing the CE and FDA marking approval for medical devices manufactured by South Korea-based MEDMIX. The device is equipped with high-power SLD's with a short wavelength. While using (laser equivalent) LED technology the device facilitates tissue stimulation and rapid revascularisation by enabling a various wavelength selection for various effects.
Thanks to its in-depth action SMARTLUX SLIM stimulates micro-circulation along with collagen production. The skin appears healthier, plumper and younger within approximately 6 weeks.
The simplified version of Smartlux Slim is called SMARTLUX MIN (LITE) :
Advantages and benefits of SMARTLUX SLIM:
5 different heads
Various wavelength selections
2450 SLD's
High-intensity super luminous diodes
20˚-30˚ divergence angle (degrees)
Narrower divergence angle for intensified treatment results.
90mm x 410mm active area
Simple radiation therapy aiming all parts of the body
1-5 energy intensity levels
Personalised intensity-modulated radiotherapy
60˚C LED light output
Longer high-power LED life expectancy
Easy-to-use
User-friendly interface, easy maintenance
Effect of the divergence angle:
Smartlux Slim LED light precision and narrow divergence angle help deliver optimal health care results.
The following illustrations clearly demonstrate how the impact of radiation therapy at tissue level outweighs the competitors' products.
Smartlux Slim Wound healing phase
Longueur

d'onde

nominale (nm)

Type de cellules/Niveau d'action
Inflammation
Multiplication
Remodelage
Tout
Mast
Neutro
Macro
Fibro
Endo
Fibro-myo
Keratino

Panneau SMARTLUX Rouge

630-670

++
+
++
+++
+++
+
+++
790
++
++

Panneau SMARTLUX IR

830

+++
+++
+++
+
++
+++
+++
904
–
+/-
–
Source : Calderhead, R. Glen. Lasers in Dermatology and Medicine, Springer London. 2012. 254p
Légende : Mast = Mastocytes, Neutro = Neutrophiles, Macro = macrophages, Fibro = Fibroblastes, Fibro-Myo = Transformation des fibroblastes en myofibroblastes, Keratino = Keratinocytes