The Shiny is the upgraded version of the famous R2PL device, which is equiped with the most innovatives technologies for the photorejuvenation and hair removal, in a very compact design. The SHINY is the latest IPL innovation by IDS Ltd, improving the safety and the usability because of his fractional sapphire and to the rotating ring for wavelength selection (patented by IDS).
SHINY : USE
The SHINY is suitable for treatments of vascular and pigmented lesions, acne, and hair removal by using different wavelengths. It can be used for photorejuvenation and hair removal (optional filters of  640nm, 695nm and 755nm), the wavelength is selected very simply by using the rotative ring directly installed on the handpiece (patent by IDS).
| | |
| --- | --- |
| Fast treatments | Preset parameters |
| The frequency of shooting is faster (until 5Hz) than in the previous version, offering more simplicity and more speed. | Thanks to the mode " Smart protocols ", the selection of the parameters is simple. The pre-loaded parameters are established from numerous clinical trials realized by IDS to obtain better results and optimal safety. |
Advantages and strengths
1) Whitening (415 nm)
Low penetration depth (0.05-0.1 mm).
Safety (concept fractional IPL).
Patent fractional IPL filed by IDS.
Strong absorption (Melanin & Haemoglobin).
Great efficiency for pigmented lesions.
2) Reduction of the side effects due to the thermal effect (split safety zone)
3) Combined rejuvenation (415nm+560nm)
Incredible results by "skin toning"
4) Acne treatment
5) Fast hair removal (SHR)
6) ALEXandrite filter (755nm) for hair removal (better wavelength for hair removal)
A maximal safety obtained thanks to the new technology of split IPL.

Rotative technology
The SHINY allows to easily select the desired wavelength by using the selection ring located on the handpiece.  The wavelength selection is simple, no need to replace the filter or the handpiece (Patent n ° 10-2004-0012778).
Supply of stable energy.
A constant energy is achieved by the technology developed by IDS, allowing treatments perfectly safe and it maximizes the effects for all skin types.
Adjustable cooling system.
The cooling system with semiconductors of the SHINY can be checked with the fingertip, and maintains a constant temperature on the treated area when it is settled. This cooling system is intended to minimize the pain of the patient and the side effects.
TECHNICAL CHARACTERISTICS
Light Source
Pulsed light (Xenon Lamp)
Wavelength
415-950nm, 560-950nm, 640-950nm

Option : 640-1,200nm, 695-1,200nm, 755-1,200nm

Fluence
5-40j/cm²
Spot Size
14.3 X 42.6mm (6,09cm²)
Pulse Sequence
Simple, double, triple pulse, SHR mode
Pulse Duration
2.0-35.0 ms
Pulse Delay
3.0-60.0 ms
Repetition Rate
1Hz, 3Hz, 5Hz (Number of pulses per second)
Light Transmission
Quartz / Sapphire
Cooling
Adjustable 0-5°C
SYSTEM CHARACTERISTICS
| | |
| --- | --- |
| Power Source | 220V/16A, 50/60 Hz |
| Dimensions | 360 x 520 x 1230 mm |
| Weight | 60 kg |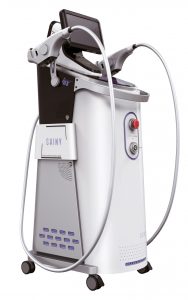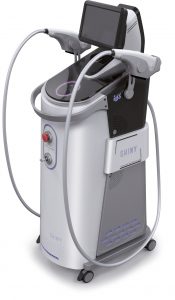 Results :
SHINY, an incredible treatment speed :