The WonTech HIFU : High Intensity Focused Ultrasoun – based Ultraskin device is a new solution for skin lifting and tightening (face and lower neckline) utilising deep thermal stimulation of the underlying dermis area while protecting the epidermis from the direct contact of the waves.
With ULTRASKIN get the visual lifting effect without surgery!
Focus ultrasonic waves are delivered deeper into the SMAS layer, while preserving the integrity of the skin surface, stimulate collagen synthesis through heat transmission. That is, the generated collagen restores the skin's natural glow and tone. At the same time the lifting and tightening effect minimises the appearance of wrinkles and reshapes the face oval.
* Superficial muscular aponeurotic system
A few weeks are necessary to see noticeable results; routine check-ups allows moreover to clearly measure efficiency: the appearance of wrinkles and fine lines is reduced, leaving the skin visibly younger.
A cheaper faster pain-free method with equal effectiveness
In comparison to other conventional equipments ULTRASKIN offers many benefits:
a similar efficiency: 20 patients referred to a recent clinical trial – for facial skin tightening – comparing the competitive advantages of ULTRASKIN versus competitive devices showed similar blinded-to-patient satisfaction
a faster procedure: shot length/lines up to 30mm vs. 25mm for competitive devices, making pain much less frequent, therefore more comfortable and effective during treatment. Clinicians are no longer compelled to terminate therapy to keep patients free
economical: the number of lines per cartridge is 4 times greater compared to competitive devices for roughly the same price
Treatment of unflattering bulges using specially-designed cartridges 13mm
The selective and optional action of Ultraskin's 13mm-depth-cartridge enables treatment of fat deposits without significant consequential side effects. The typical 30-min long treatment targeting the abdominal fat triggers a gradual process of fat removal that develops within just a few week.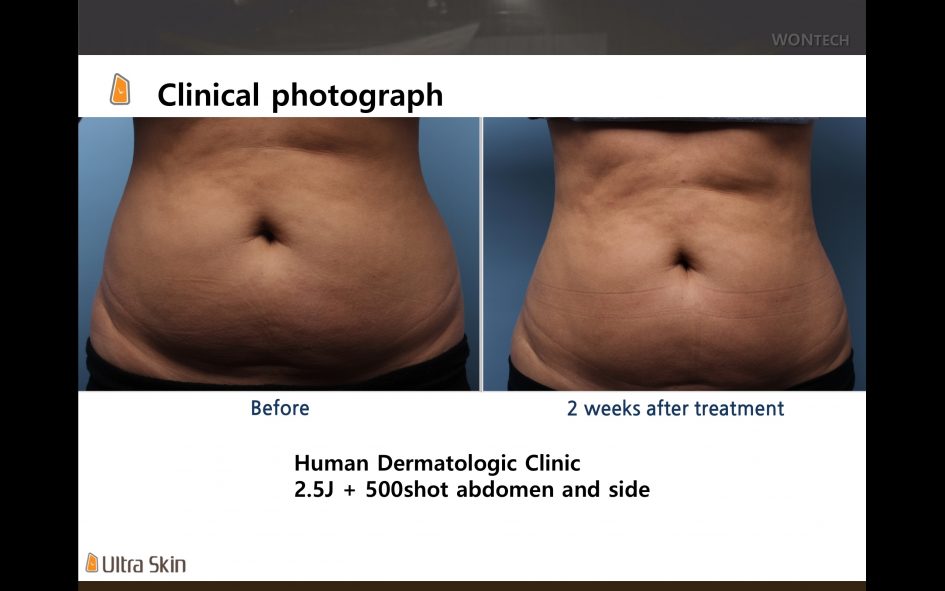 Who is the Ultraskin therapy intended for?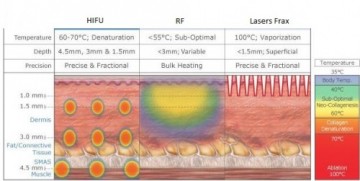 Over the years, the first visible signs of ageing start to become apparent, as skin elasticity and tone decline.
Several methods have been introduced  to address such issue, including:
Surgery, a cumbersome and invasive procedure presenting its own challenge (anaesthesia, stoppage…)
Radio frequency, a method that works but with a less significant action, requiring at least 5 sessions on a regular basis, which is compelling
Ablative lasers, a therapy requiring about a week of downtime
Contrary to fractional laser/RFID therapies, ultrasound energy focused to a target tissue region located below the epidermis enables to bypass the upper layers of the skin.
Such protocol offers a true pain-free alternative at any one time without the usual postoperative complications. It is meant for people wishing to delay the effects of ageing without the disadvantages of surgical treatments.
What areas can be treated with Ultraskin?
Ultraskin's various depth actions of ultrasound skin-tightening make it possible to target and treat different areas, such as face and cleavage, so as to create a genuine and visible lifting effect. The removal of the unwanted dimpled skin of cellulite can also be achieved by destroying the fat cells of the body.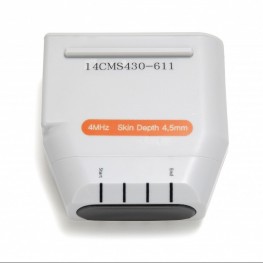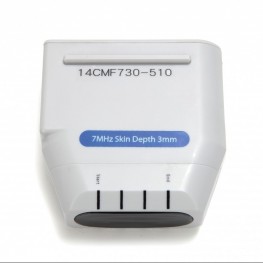 Safe and painless after just one treatment with no downtime
Such revolutionary technique allows to produce and achieve incredible and lasting results in a single session with no downtime. For instance, patients undergoing therapy at lunchtime can immediately return to their normal work routine and activities after treatment.
Product specification
Type
HIFU – High Intensity Focused Ultrasound
Frequency
4.0 MHz / 7.0 MHz
Models
ULTRASKIN I (with skin analyser) / ULTRASKIN II (without skin analyser)
Depth

4.0 MHz : 4.5mm (Standard)

7.0 MHz : 3mm (Standard)

7.0 MHz : 1.5mm (Optional)

4.0 MHz : 13mm (Optional)

Magic Pen : 1.5mm (Optional)

Magic Lipo : 13mm (Optional)

Length
1~30mm (1mm step)
Screen
Display GUI Touch screen
Image frequency
5-10 MHz
Weight and dimensions
400(L) x 392(P) x 1120(H)mm, 35 Kgs