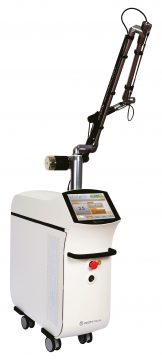 WONTech FDA-approved PASTELLE is a Nd:YAG-type Q-Switched laser with dual wavelength (1064nm and 532nm). Fitted with optional all-colour handpieces the device features 4 wavelengths:
A quick and easy-to-use solution to treat the entire tattoo at one time resulting in a rapid removal of the different colours!
A fractional handpiece is also available as an option.
Pastelle is well suited for the treatment of skin and aesthetic lesions, such as:
Tattoo removal
Pigmented lesions
Photorejuvenation
Slackening skin
PASTELLE Premium Q-Swiched Nd:YAG Laser
OPTIONAL HANDPIECES
 585nm (multi-dye handpiece)

The common 585nm-wavelength is used to treat a variety of vascular lesions via long-pulsed laser therapy enabling to target the endothelial cell lining
Acne inflammation
Skin redness
Post-acne marks/scars

660nm (RUBY handpiece)

The common 660nm-wavelength is used to treat a variety of benign pigmented lesions.
Freckles
Any other types of pigmented lesions

Fractional
MAIN FEATURES
Collimated flattop beam mode
Safe and high-efficiency solution to treat all types of pigment lesions (cryolipolysis, epidermal and dermal lesions)
Double mode: Pastelle Toning and Genesis (laser soft peel)
Adjustable spot size simplified via an integrated zoom lensing system on the handpiece (2-10mm)
Auto-calibrated function producing constant output during treatment
Extra optional dye handpieces (585nm, 660nm, fractional)
Low fluence PTP* mode allowing for:

reduced pain and quicker healing and recovery time
reduced adverse effects, i.e. lesser risk for injury to the surrounding tissues
reduced risks of hyper- or hypo-pigmentation
* Photoacoustic Twin Pulse