The Won Technology Mercury device is a medical long pulsed Nd:Yag-type laser with dual wavelength of 1064nm and 1302nm, which is widely used in dermatological and cosmetic/aesthetic medicine, for such treatments like:
Permanent hair removal
Vascular lesions
Photorejuvenation (Slackening skin)
Nail fungus
Dual epidermal cooling for greater comfort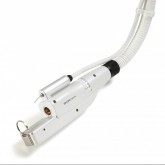 Mercury is fitted with a very efficient double-pulse epidermal cooling system consisting of:
contact cooling (with both the sapphire window and plate held at cold temperature)
a GAS*-based Skin Cooling System (SCS)
SCS provides a calibrated and controllable skin cooling by delivering a jet of air within a few milliseconds to the skin surface, before laser procedure, to produce numbness on the skin and keep the patient calm and comfortable during treatments.
* Gas analysis system
You can now choose the cooling system best suited for your desired treatment interventions.
Mercury : a premium Nd:YAG-type laser
A quick and effective medical care
Thanks to its multiple spot sizes (from 2 up to 20mm) and efficient cooling system Mercury enables faster medical treatments.
How does it work?
Principles of laser treatment of vascular lesions
Such treatment consists in clotting the blood vessels, while applying relevant energy within a relatively short period of time, before the vessels collapse.

Principles of permanent laser hair removal
Destruction of the hair follicle and feeder vessels through selective photothermolysis.
Delivery of sufficient amount of energy to destroy the hair follicles by laser pulses with much more speed and intensity than the skin thermal relaxation time (TRT)
Absorption by other cells outside of the treated area is minimised.