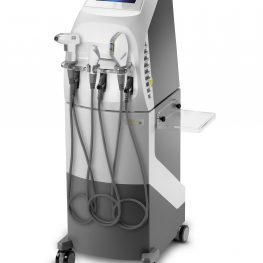 The Forma Platform is a multi-functional platform with four advanced technologies : Flash lamp (IPL), Bipolar Radio Frequency, Ultrasound and mechanical Peeling. This "All in One" device allows practitioners to propose a wide variety of care solutions without compromise with security and efficiency.
The Forma has been developed to offer the highest level of safety and efficiency by offering a wide choice of treatment in a context of increasing demand in aesthetics.
Forma : 4 technologies for synergistic treatments
Flash Lamp : With the highest power density in the world (22J / cm² at 5ms), Forma's IPL applicators offers an unrivaled choice of treatments with outstanding results, reducing the pain sensation. It allows practitioners to choose applicators as the business grows, depending on their needs.
Smart-ST: A brand new radio frequency technology for the treatment of skin sagging, stretch marks and wrinkles ! This technology offers a complete restructuring of radio frequency treatments and provides the patient with an effective and safe solution for these types of treatments while reducing discomfort.
R-Sonic: This applicator combines radio frequencies and ultrasound, to optimize the results of RF processing. This synergy offers the ideal approach to treat small wrinkles, and providing a lifting effect and better penetration of active principles through ultrasound, in a non-invasive way.
Diamond Peeling: With a disc coated with diamond powder, this rotating mechanical peeling applicator allows deep cleansing of the skin before other treatments. Thanks to its different discs of different sizes and degrees of abrasion, it offers effective results on all skin types.
Available treatments
Permanent hair removal
Pigmented Lesions
Acne
Deep wrinkle attenuation
Onychomycosis- nail fungus
Non-invasive Mesotherapy
Cleaning the skin
Skin Firming
Stretch Marks
Photorejuvenation
Acne Scars
Vascular lesions
Forma, a scalable platform
The "All in One" device is a clever approach to the evolution of your business.
A single device to do everything. No need to buy 2 or 3 devices, everything is included!
No consumables
Flexible: As your activity grows, you add the applicators you need, increasing the range of treatments available with your device.
Less room occupied by your equipment, it is more space for you and your patients.
The applicators